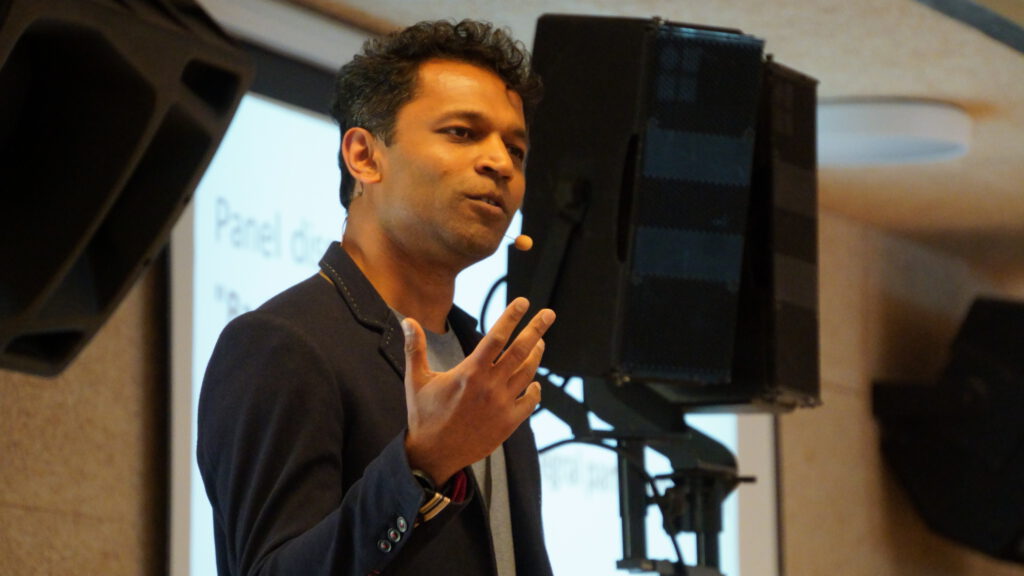 Panel members:
Dan Rex, CEO of Toastmasters
Elizabeth Smith, DTM, PDD 2020-21
Stefan Zahov, DTM, DD 2022-23
Panel moderator:
Ranjith Venkatesh, Toastmaster
Date:
12 May, 2023
I was excited when Svetlana asked me if I would be interested to moderate a panel with the Toastmasters CEO Dan and district directors Elizabeth and Stefan.
I said Yes!
Here is the envisioned future of Toastmasters:
"To be the first choice provider of dynamic, high value, experiential communication and leadership skills development"
How does one talk about this in 45 minutes with regional (Germany, Sweden, Norway and Denmark) and international Toastmasters leaders?
I have been a fan of the "The Daily Show with Trevor Noah". So I decided to introduce each panel member and bring them on stage one of by one and let them answer one question before we brought the next panel member on stage.
I split the panel discussion in three parts:
Introductory question to each panel member

The theme of the conference was "Celebrate the past, embrace the future"
I introduced and asked each panel member something that they were proud of in their Toastmasters past. It was great to learn what made each district director and CEO proud.

Prepared questions from the last CEO report (That is right, the CEO publishes two reports every year)

We discussed not just hybrid meetings but international hybrid conventions
We discussed Toastmasters educational material being translated in multiple languages using Translation Management Systems
We discussed Meeting Tools to support roles in a Toastmasters meeting online and how they measure against EasySpeak

Prepared questions from the audience (We had a question forum where Toastmasters attending the conference could post and vote for their questions)

Complexity of IT and Time consuming tasks especially Pathways and EasySpeak
How does working for Toastmasters differ from other non-profit organisations?
How is Artificial Intelligence (AI) helping Toastmasters become better speakers? eg: Yoodli
We managed to complete the panel discussion in 45 minutes and had a Toastmasters audience listening carefully to the district directors and CEO talk about the shared future of Toastmasters.
It was great to close off our panel discussion learning what they like eat best being Sushi, Thai, Fries and Biriyani. I leave it to you to figure out who liked what 🙂
Reference: Toastmasters International -CEO Reports