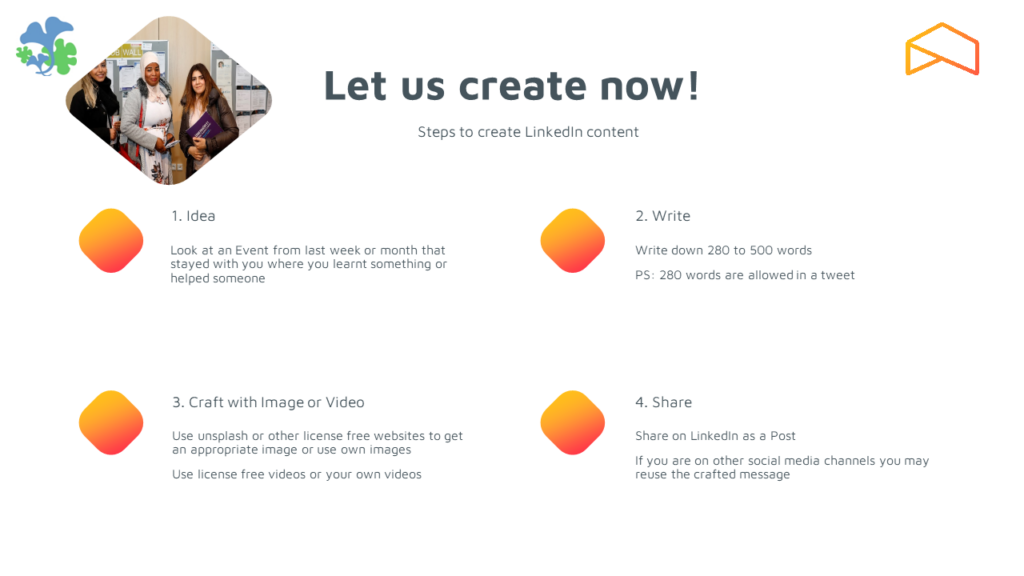 I had the opportunity to run a lunch talk for Amiga last month.
We spoke about a few things:
Why LinkedIn?

Did you know that 1 out of 8 professionals in Germany use LinkedIn?

Why Career Advancement?

Grow or become a linchpin (Check out Video on References)

Kinds of LinkedIn Posts

Focus on Image and Video based Posts (Check out posts using Images and Videos)

Creating Content

Idea–>Write–>Craft–>Share
How many of you have Ideas week in and week out but never take the time to put them down?
"Look at an Event from last week or month that stayed with you where you learnt something or helped someone"
Something of value to the reader can be created in even 280 words. Sit down and write atleast once a week
"Write down 280 to 500 words
PS: 280 words are allowed in a tweet"
Crafting a message with an image or video gets the attention of the reader who has multiple information sources
"Use unsplash or other license free websites to get an appropriate image or use own images
Use license free videos or your own videos"
Sharing the content of multiple platforms or atleast the platforms that your clients are active in is a good practice
"Share on LinkedIn as a Post
If you are on other social media channels you may reuse the crafted message"
References:
EVENTS – amiga (I can recommend these Events for International professionals in Munich looking for opportunities)
Ranjith @ LinkedIn (Example posts using Images and Video)