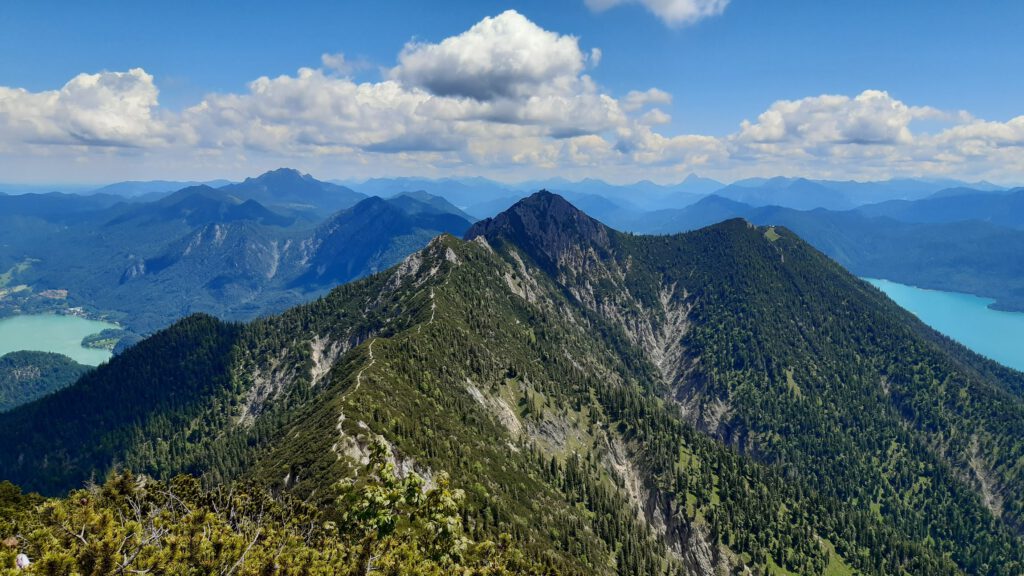 A Gratwanderung is "Walking along mountain ridges"
I imagine walking along mountain ridges from movies.
Like in the Lord of the Rings when the group keeps walking from one mountain to another
I had been on simple treks with a few metres towards the end with ridges. Last weekend me and my sister were faced with a walk that would take 2 hours and 15 minutes one way with an elevation difference of 200m.
Both of us do not like heights
Both of us considered ourselves to be avid hikers and trekkers but not necessarily gratwanderers!
Here are a few things the German Alpine Organisation (DAV) recommends
Local weather conditions
Elevation difference during the ascent and descent

Herzogstand 1731m
Heimgarten 1790m

Length and Timing for the tour

2 hours 15 minutes for international tourists
1 hour 30 minutes for local hikers
1 hour for sporty hikers

Type of terrain

Walking along mountain ridges
DAV calls it BLACK

Huts to eat and drink

Heimgarten has a small hut heavy on sausages and pea soup for vegetarians
We decided to do it.
The first 10 minutes were difficult but after that our lungs got used to the new breathing and our legs to the new terrain.
When we arrived at Heimgarten we saw a guy wearing a pink bunny costume and singing Oktoberfest songs.
The beer was cold and the pea soup was just right to get us ready for the way back.
We took 2 hours on each way.
The way back felt easier because our lungs and legs knew what was in store.
When we came back to Herzogstand we added a BLACK rated hike as a feather on our caps.
We were proud of ourselves.
Are we walking blue and red rated hikes at work?
Is there a black rated hike that we are postponing or hiding from our teams?
Can we take it on with proper preparation and bit of courage?
Do we know the hikers and trekkers in the team waiting to become gratwanderers?
Is there a Gratwanderer in you?
Are you ready for your first or next BLACK hike?